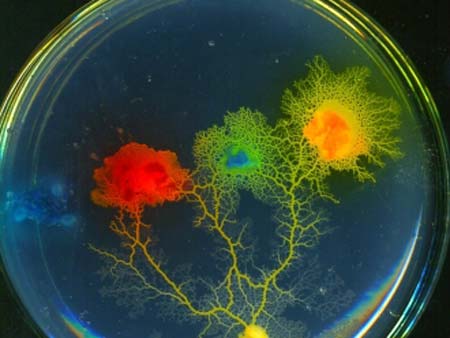 DIY Bio Lounge // 24 - 26 January, 2014
24 January, 2014, 8 PM: Art & Science Dialog with Theresa Schubert and Andy Adamatzky
In a dialogue between artist and scientist, Theresa Schubert and Andrew Adamatzky discuss working with the single cell organism Physarum polycephalum. As a living curiosum, this type of slime mould serves as a model for network optimisation. It can be interpreted as an 'agent' who distributively solves geometric problems. Presenting artworks and results of experiments, the talk challenges common understandings of intelligence and creativity, and emphasises a post-human view on the world and its creatures.
Theresa Schubert (DE) is a post-media artist, works as an artistic researcher and is a PhD candidate at the Bauhaus-University Weimar. (http://www.theresaschubert.org/)
Andrew Adamatzky (UK) is Professor in Unconventional Computing in the Department of Computer Science, Director of the Unconventional Computing Centre, and a member of Bristol Robotics Lab at the University of the West of England.
(http://uncomp.uwe.ac.uk/adamatzky/)
25 January, 2014
2-6 PM DIY Bio Lounge; bio-hackathon
7 PM Presentation by Rüdiger Trojok
6 PM - open end: DIY Bio Lounge, drop in & drop out; open bio lab; molecular cocktails; Bioluminescence installation by Sarah Chareza and Jessica Bernds
A full day programme of events introduced and led by biologist Rüdiger Trojok, combining science art, and open source science technology. This event is part of a larger project to create an open bio lab project in Berlin (see http://www.openbioprojects.net/ for more information.)
In the evening there will be a Molecular cocktail bar, serving sparkling wine with aperol bubbles, as well as 'smoking' cocktails.


26 January, 2014
2-6 PM DIY Bio Lounge, open bio lab
3 PM: BioStrike: Open Antibiotics Discovery a presentation by Denisa Kera (hackteria.org and National University of Singapore)


25-26 January, 2014
Bioluminescence an installation by Sarah Chareza and Jessica Bernds
Accompanying Art Laboratory's programme of events (DIY Bio Lounge), this installation displays the bioluminescent bacteria (Aliivibrio fischeri). These bacteria are widespread in all oceans, and prefer to live in symbiosis with marine organisms (e.g. herring or squid). Bioluminescence, chemical reactions within the bacterial cells, make these cells visible in the dark. In contrast to phosphorescence, which is observed in decomposing organic material and can only be made visible through the absorption of outside light, bioluminescence only occurs in living organisms.
In the installation, these harmless bacteria have been cultivated on a nutrient medium. The artists aim to represent the aesthetics of decay, the daily occurrence when a large number of unused food wastes away, and thereby make a statement about the "the Food Question" and its relation to the global food shortage.


Jessica Bernds is a Berlin based biologist and bio-artist.
Sarah Chareza completed her PhD in Microbiology and Virology at the Germany Cancer Research Center in Heidelberg and is currently working in a contract research organisation.
Denisa Kera is a philosopher and a designer, who uses prototypes to rethink history of science, but also future scenarios related to emerging technologies. In 2013 she became a collector of DIYbio prototypes and Hackteria network archivist. She is also Assistant Professor at the National University of Singapore.
Rüdiger Trojok studied systems and synthetic biology at the University of Potsdam and the University of Freiburg in Germany and Denmark Technical University. Currently he is building up a citizen science biolab in Berlin and actively promoting open source biotechnology in public, politics and the arts
.
DIY Bio Lounge is a project in cooperation with openbioprojects.net and the Vorspiel 2014 programme of transmediale and CTM.

Media partner:


image:
Differential intake of coloured substances by slime mould Physarum polycephalum in laboratory implementation of Kolmogorov-Uspenskii machine. Courtesy of Andrew Adamatzky. Adamatzky A. "Physarum Machines" (World Scientific, 2010).